TK Chemical is fulfilling its responsibility as an eco-friendly company.
'TK Chemical Thinks the Future of Earth'
We are extending the scope of our environmental responsibility.
We pursue the Green value through developing eco friendly materials, reducing of environmental impact and greenhouse gas emissions.
We practice various eco-friendly activities including reducing energy use and greenhouse gas emissions, developing ecofriendly materials, and engaging in environmental protection.
TK Chemical produces eco-friendly fider (ECOLON) from recycled PET bottles in collaboration with the bottled water company "Sparkle".
Volunteer clean-up day around the factory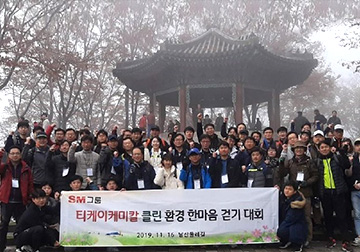 Namsan Environmental Clean Walkathon

Marsamo Activities
Compliance with Environmental Pollutant Management and Regulation
TK Chemical has established stricter standards than the legal standards to manage pollutants generated during the production process.
In addition, to reduce environmental waste, we are investing in to the fundamental causes of pollution by improving the production process, using eco-friendly equipment, and implementing a pollution preventing infrastructure.
Environmental Conservation Activities

Every factories and business sites keep doing environmental conservation activities.

Greenhouse Gas Management

In adherence with the Greenhouse Gas Emissions Trading Policy, our greenhouse gas emissions and energy consumption are reported to the government.

Greenhouse Gas Reduction Activities

We are continuously expanding and reviewing our investment in energy-reduction technology to reduce energy consumption and better management GHG emission.

Energy-saving Activities

We continuously invest and monitor in energy- saving and energy efficient production process.

Installing LED lighting at all business sites
Using high-efficiency equipment
Optimization of equipment
Recycling packaging materials